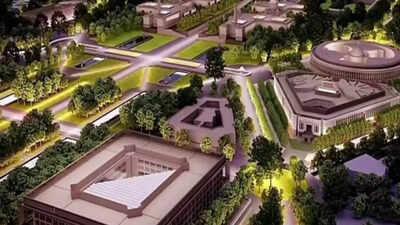 NEW DELHI: In an unusual move, the Central Public Works Department (CPWD) has floated a fresh tender for pre-qualification of contractors to bid for the construction of Executive Enclave in Central Vista area after cancelling the last one. The CPWD had opened the financial bids for this project in March and a Delhi-based construction firm had emerged as the lowest bidder.
After a round of selection process, some major construction companies had qualified last year and they had put in their financial bids. Delhi-based company, Ahluwalia Contracts had submitted the lowest bid of Rs 1,119 crore, nearly 3.5% less than the Rs 1,160-crore estimate made by the CPWD.
TOI on May 21 had first reported that the CPWD was likely to scrap the bidding process. The Executive Enclave project will have a new Prime Minister's Office (PMO), Cabinet Secretariat, India House and the National Security Council Secretariat. The project has a strict deadline of two years for its completion.
According to the fresh document, which has been uploaded by the CPWD on its website, the revised indicated project cost is Rs 1,316 crore. This is the first case when a bid under process after getting more than one competitive quote has been scrapped in this high-profile project in the heart of Delhi.
The fresh bid document specifies that the total plinth area of the proposed building is approximately 85,282 sqm including the basement area. In the earlier bid, it had estimated the plinth area to be approximately 87,915 sqm including the basement area of 20,879 sqm.
Some of the additional works that have been provisioned in the new bid include 38 new watch towers, active components of computer information technology (ICT), seven entry and exit gates along with complete security systems. The fresh bid document has retained the other provisions including the operation and maintenance of all civil, electrical services and housekeeping for five years.
It can be recalled that earlier Tata Projects and NCC Ltd had the second and third lowest price for the project respectively. During the pre-qualification round two firms — Shapoorji Pallonji and Ahmedabad-based PSP Projects Ltd — could not qualify for submission of financial bids.

FOLLOW US ON SOCIAL MEDIA
FacebookTwitterInstagramKOO APPYOUTUBE