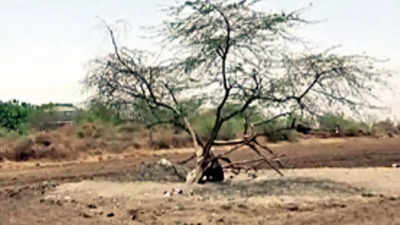 The man was tied to this tree. Soon he may get to live a life of dignity
RAJKOT: A 22-year-old man with learning difficulties at Sarva village of Gujarat's Botad district has lived most of his life chained to a tree for the past eight years. Thanks to the efforts by a social activist, Mahesh Olakiya may soon get a chance to live his life with dignity.
After he started behaving violently, the man hailing from a family of poverty-stricken slum-dwellers, was chained to a tree in the nude.
Father Pragji Olakiya said that his mentally unwell son turns violent and starts pelting stones if anybody goes near him. "We are very poor and have no resources to treat him or keep him anywhere. So, we have to keep him chained to a tree," he added.
Nitin Jani, a social media comedian well-known as Khajubhai on YouTube, recently got a message on his social media handle about this family and he visited them.
"We have built a house for the family on the outskirts of the village. We have also provided light and fans and given food and water to Mahesh. He is violent at present. In a day or two, we will take him to some psychiatrist," Jani said.

FOLLOW US ON SOCIAL MEDIA
FacebookTwitterInstagramKOO APPYOUTUBE