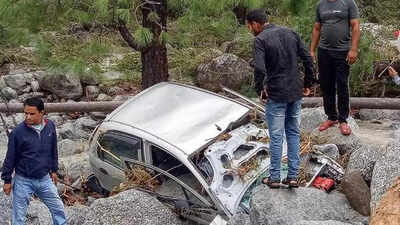 Officials stated that a Tata Sumo slid off the road and tumbled into the gorge at Tarran Wali. (PTI)
SRINAGAR: Nine people were killed in a tragic road accident near Chini Nallah Zojila Pass on Srinagar-Leh highway on Wednesday night. Officials sources on Thursday said a Tavera car bearing registration number JK12-7466, which was heading for Srinagar from Kargil, fell down 800ft into a gorge after the driver allegedly lost control over the vehicle.
Police immediately launched a rescue operation at the site and retrieved bodies of seven people. Bodies of two others were retrieved on Thursday morning, police said, adding that one critically injured man is under treatment at SKIMS in Soura.
Those died in the mishap have been identified as Azhar Iqbal (driver), Ankit Dileep, Gandhi Marmu and his father Mangal Marmu, Ranjit Kumar, Muhammad Aslam Parray, Nanak Chand (a Naib Subedar), Dileshwar Sidhar and Sunil Lal. While Iqbal and Parray were residents of J&K, the rest belonged to other parts of the country, including Gujarat, Jharkhand, UP, Punjab and Chhattisgarh.

FOLLOW US ON SOCIAL MEDIA
FacebookTwitterInstagramKOO APPYOUTUBE